MELBOURNE, AUSTRALIA LIVE EVENT 30th November 2022, Melbourne Convention & Exhibition Centre
CONFERENCE VENUE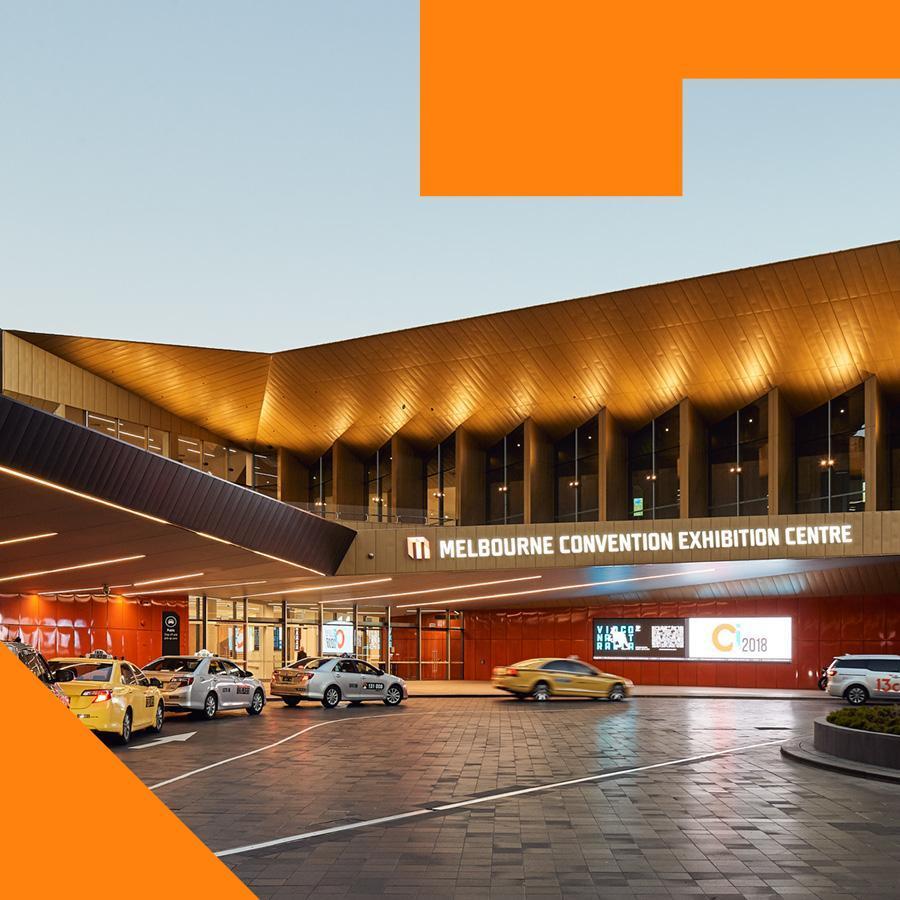 Melbourne Convention & Exhibition Centre
Level 4, Exhibition Centre
Clarendon Room A
South Wharf, Melbourne
GETTING THERE - MORE INFORMATION HERE
Melbourne Convention & Exhibition Centre (MCEC) is located on the banks of the iconic Yarra River in South Wharf. A short walk from Melbourne's central business district and just a 20-minute drive from Melbourne Airport.

Travelling by public transport
The MCEC can be easily accessed by tram, train or bus. The closest train station is Southern Cross and you can catch any of the following trams, getting off at the stop opposite the Clarendon Street entrance of MCEC.
Route 96 – St Kilda to East Brunswick
Route 109 – Port Melbourne to Box Hill
Route 112 – West Preston to St Kilda
For further tram, train or bus timetable information and trip planning, visit the Victorian Public Transport website here: www.ptv.vic.gov.au
CAR PARKING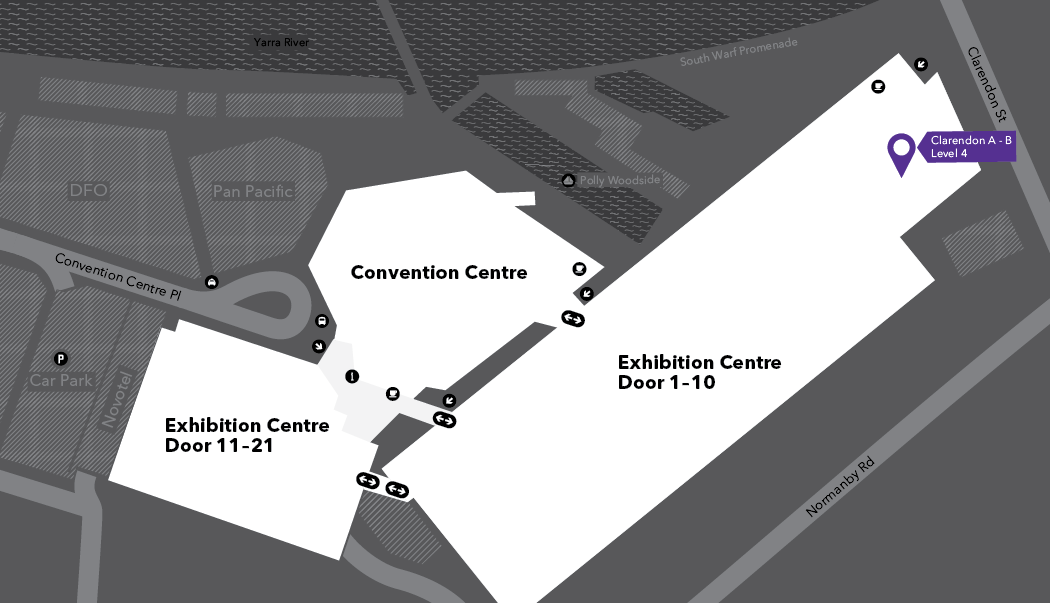 If you are driving to the MCEC, there are four car parks available for use.
Melbourne Convention & Exhibition Centre Parking -
Entrance and exit off Normanby Road. Open 24 hours, seven days a week.
South Wharf Parking
Entrance off Normanby Road, Open 24 hours, seven days a week.
Siddeley Street Parking
Open 24 hours, seven days a week.
Freeway Car Park
Located at Munro Street under the Westgate Bridge. You can access this car park via Normanby Road and Munro Street.
Walking
Melbourne Convention & Exhibition Centre (MCEC) is located on the banks of the iconic Yarra River in South Wharf. It is a short walk from the Melbourne central business district.
DISCOVERING MELBOURNE
The MCEC is just a short walk away from the city centre, where you can discover Melbourne's world-famous laneways, restaurants, galleries and wonderful boutiques. For more details on current activities click here

ACCOMMODATION
The MCEC is the only centre in Australia to offer onsite accommodation. The 5-Star Pan Pacific Melbourne, and Novotel directly connect via private internal walkways.
Pan Pacific Melbourne – South Wharf – click here
Novotel South Wharf – click here
Other accommodation is available within walking distance of the MCEC, search Hotels Combined – click here
ROTORUA, NEW ZEALAND LIVE EVENT 2nd December 2022, Distinction Hotel, Rotorua, New Zealand
CONFERENCE VENUE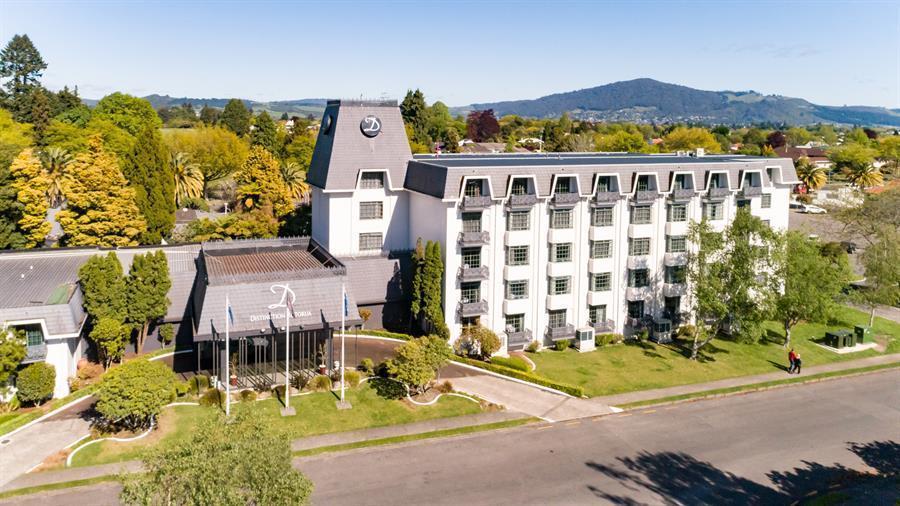 Distinction Hotel Rotorua
Fenton Conference Centre
390 Fenton Street, Rotorua 3030
Reception Entrance is on Trigg Avenue.
Reservations:
www.distinctionhotelsrotorua.co.nz/APPITA2022
GETTING THERE
The Distinction Hotel is just minutes by car and a 20-minute walk down Fenton Street to the Rotorua City Centre. It is a 20-minute drive from Rotorua Airport, and a taxi will cost approximately $35, or a shuttle about $22. Rotorua Taxis: 07 348 1111. Taxi Cabs Rotorua 07 347 9797. Delegates can book a taxi at the reception desk at the hotel.
VENUE CAR PARKING
There is a large gated conference car park located at the end of the hotel leading straight into the conference centre. Entry points are from Fenton Street and Trigg Ave. There is also ample street parking on Trigg Ave and a small car park at the Sala Street entry.
DROP OFF/DISABLED ACCESS
Drop off and disabled access to the conference centre is through the conference car park or at the reception entry off Trigg Ave. A disabled toilet is located in the conference centre.

DISCOVERING ROTORUA
All the exciting attractions and activities of Rotorua are just a short walk or drive away from Distinction Rotorua Hotel & Conference Centre. This includes Te Puia, New Zealand's geothermal wonderland, featuring dramatic geysers, bubbling mud pools, traditional Māori carvers and weavers; Whakarewarewa Forest which offers world-class mountain biking trails and forest walks and the Redwood Tree Tops Walk. If you are interested in playing golf, Rotorua's most prestigious golf course - Arikapakapa - is right across the street from the hotel

Weather
December is New Zealand's summer period, and temperatures around the time of the conference should be warm

ACCOMMODATION
The Distinction Hotel is a Four-Star hotel with a range of accommodation options. It has a heated swimming pool and spas. Other accommodation is available within walking distance of the Conference Venue or in the City Centre.