Current Short Courses - Australia
If you are interested to learn more about Appita's Short Courses, please contact Appita on (03) 9467 9722 or This email address is being protected from spambots. You need JavaScript enabled to view it. and we will be happy to discuss how we can assist you with your professional development and technical training needs.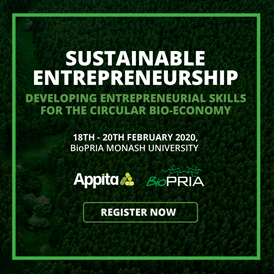 SUSTAINABLE ENTREPRENEURSHIP
Developing entrepreneurial skills for the circular bio-economy
FEBRUARY 18 -20, 2020
The workshop will look at how sustainable development and the circular bioeconomy have become a new source of entrepreneurial opportunities for forest based businesses. While the insights from this course will help you understand the concepts of sustainable entrepreneurship and the key drivers for its realisation, the focus will be on developing the entrepreneurial skills and mindset needed to realise new sustainable business opportunities and to manage and grow these opportunities into real business ventures.

Course Information click here



Fundamentals of Papermaking & Paper Performance
May, 2020, BioPRIA, Monash University,
The course will expose participants to the parts and processes involved - the tree, pulp, paper and end products, with particular focus on the Australian and New Zealand industry. Various unit processes will be covered in sufficient detail to provide a good understanding of pulp and paper making and the properties and uses of paper.

The course also includes practical sessions on paper quality and paper end use performance.
To register your interest please contact This email address is being protected from spambots. You need JavaScript enabled to view it.
Fundamentals of Corrugating & Converting
May, 2020, BioPRIA, Monash University,
This course will provide participants with a wide appreciation of the role that the paper machine and paper makers have in providing fit-for-use materials for the corrugator. Attendees will explore the relationship between commonly measured paper properties and the performance of the corrugator, corrugated board and, finally, the corrugated box.
The course is designed to provide a greater understanding of the corrugating and converting process and an appreciation of the customers' quality requirements for particular end-use applications.