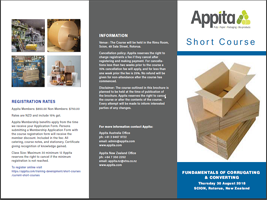 Fundamentals of Corrugating & Converting
Thursday 30 August 2018, RIMU Room, Scion, 49 Sala Street, Rotorua.
This one day course is designed for people who are new to the pulp, paper and packaging industry and who want to know the basics of how paper is converted into boxes and cartons.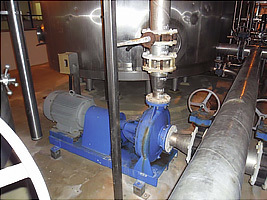 Pump Workshop
Friday 28 September, RIMU Room, Scion, 49 Sala Street, Rotorua.
The workshop is aimed at technical, maintenance, and operational staff who design, operate, maintain and troubleshoot pump systems.
More information.
A Practical Guide to Wet End Chemistry
10 - 13 December, Rotorua, New Zealand
This course is specifically designed to provide a basis on which to troubleshoot paper machine runnability & product quality problems that can result from wet-end chemistry imbalances. The course titled 'A practical guide to wet end chemistry' includes theory, practical day to day information and troubleshooting exercises that are geared towards the papermaking manufacturing processes and conditions.

More information coming soon.
If you are interested to learn more about Appita's Short Courses, please contact Appita on (03) 9467 9722 or This email address is being protected from spambots. You need JavaScript enabled to view it. and we will be happy to discuss how we can assist you with your professional development and technical training needs.