Each year Appita holds a New Speakers Competition in conjunction with the Appita Annual Conference. The purpose of the Appita New Speakers Contest is to provide an opportunity for first-time presenters to develop their presentation skills and present in front of a large audience as part of their ongoing career development.

As a lead up to this competition, Appita holds run-off competitions in New Zealand and Australia to select a representative from the Australian and New Zealand pulp and paper industry to compete at the ANZ final which is held in conjunction with the Appita Fibre Value Chain Conference.
Entrants must be members of Appita (non-members are invited to join to become eligible) and have not previously made a formal presentation to an industry peer audience held outside their own company.
The winners of each competition will receive an educational grant for career development in the pulp & paper industry; a trophy; and a complimentary registration to attend the Appita Fibre Value Chain Conference, where they will compete in the Appita-wide New Speakers' Competition. Each runner-up will receive a cash prize.
Interested in Sponsoring?
Sponsors are invited to be involved in this competition. It is an opportunity to be recognised as supporting an exciting event, providing an incentive for young people in the Australasian pulp and paper industry.
For sponsorship enquiries please contact:
Karen Clark at
This email address is being protected from spambots. You need JavaScript enabled to view it.
for the NZ Section New Speakers' Competition.
Jenny Ponter at
This email address is being protected from spambots. You need JavaScript enabled to view it.
for the Appita Australia New Speakers' Competition.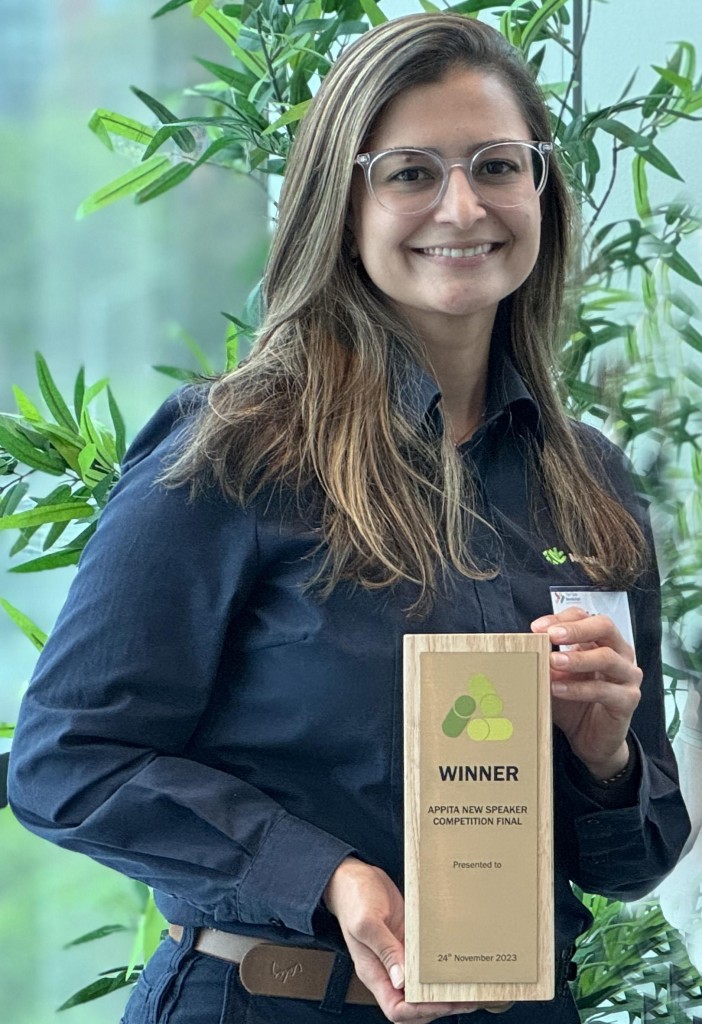 2023 New Speakers Contest Winner
Ana Serna, Business Improvement Process Engineer, Norske Skog, Australia

The presentation titled: "TMP Fractionation Improvement Project."

Sponsored by: Albany International, Asten Johnson, Andritz, Aurelia Consulting, BTG, Chemiplas NZ, Kemira, Manildra, Scandinavian Electronics, Solenis, Solenis NZ, Scion, Solvay, UJL Solutions, Valmet and Wood Beca