Applications for the Mentoring Program are now OPEN


Appita is delighted to announce the launch of its Young Professionals Mentoring Program. Led by the Appita Young Professionals Network, the program aims to foster new relationships and support the new generation of leaders.
As a technical and professional association, Appita is in a unique position to provide an independent platform for mentoring and supporting the growth of young professionals in the pulp, paper, packaging and bioproducts sector. Within the membership of Appita, we have a wide-ranging and extensive pool of knowledge and experience and we are committed to working alongside our members to grow and develop their careers.
The program aims to foster new relationships and support the personal and professional growth of our next generation of industry leaders.
The program is offered to Appita Members. It is designed to be flexible to allow mentees and mentors the opportunity to work together in identifying the mentoring needs of the mentee and develop objectives for the mentee-mentor relationship.
"I had the honor to be part of YPN Mentoring Program 2020. I initially applied focusing on learning about P&P business, I moved from Germany to Australia in 2019 and wanted to understand better the local market and how the paper industry behaves Down Under. What I have actually got with the mentoring program was a mentor who motivated, made me think on long term solutions and considered the big picture when discussing business. I've got a mentoring for life, to become a better human being, not only a better professional. Thank you so much!" Renata Daudt, Andritz
"I developed a much more mature people skills and I also acquired an improved understanding of the process safety and engineering skills. The relationship supported and improved my resilience in the rapidly changing work environment" Christy Tan, Oji
"I feel confident about the next steps in my professional career" Ruth Barajas, BioPRIA
Why become a mentee?
Target your areas for career development and professional growth
Receive wisdom and advice from leading industry professionals
Gain clarity and perspective on your career aspirations
Gain knowledge and develop networks
Personal growth
Why become a mentor?
Give back to the industry
Stay in touch with emerging issues relevant to young industry professionals
Shape the leaders of tomorrow
Gain the intrinsic reward of helping others
Network with other mentors
The Appita Young Professionals Mentoring Program coordinates and facilitates the pairing of Appita Young Professional members with experienced members in the mentee's area of interest. The program primary objective is to initiate a mentee-mentor relationship.
This is a six-step process: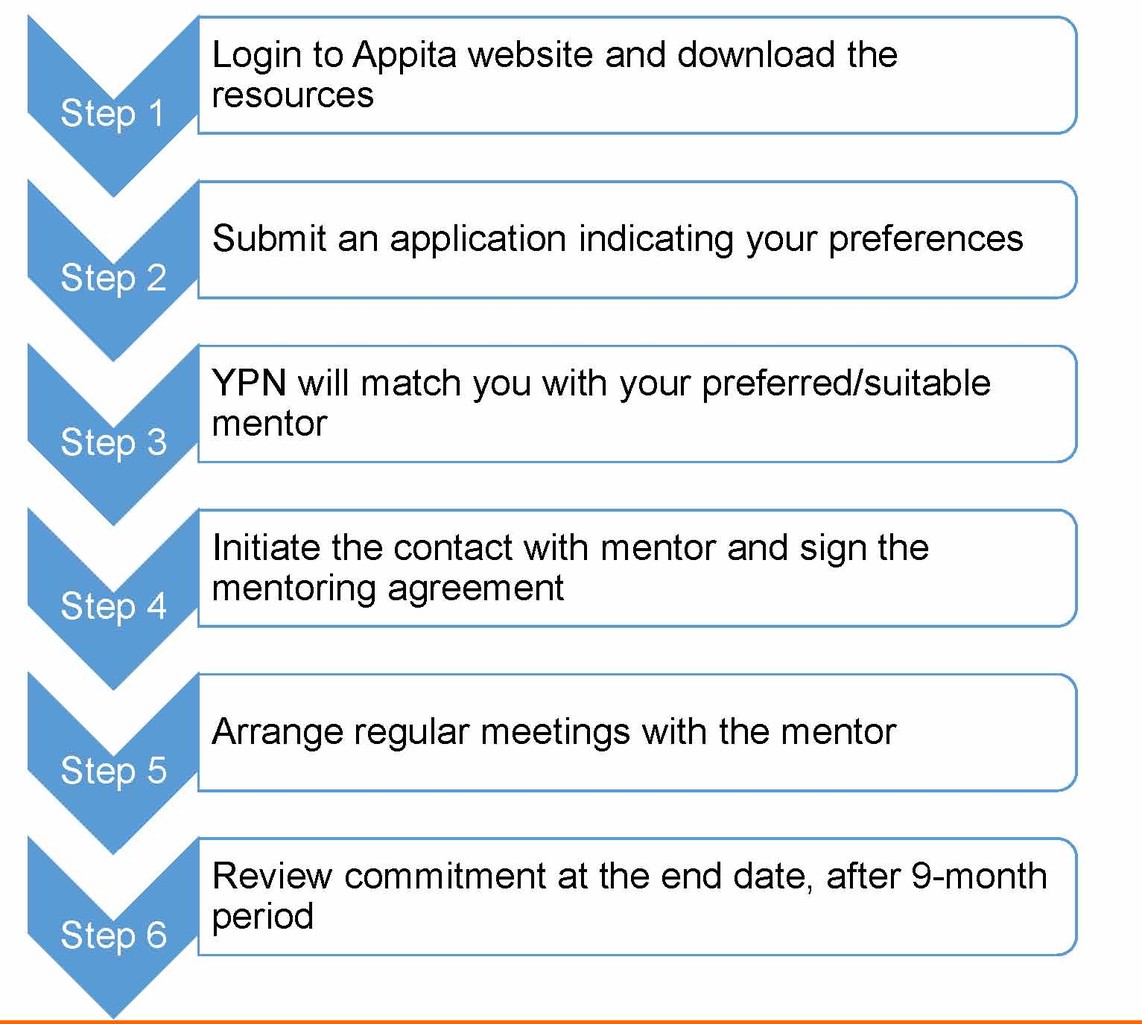 FAQ'S Mentees
Who can apply?
Any young professional between the ages 20-40, in the pulp and paper industry, could apply to the program. You must hold a current Appita membership. There are multiple options for membership. Please visit https://appita.com/membership-networks/membership for more information or email us at This email address is being protected from spambots. You need JavaScript enabled to view it.
How do apply to be a participant in the program?
You can apply by visiting our Mentoring webpage on the Appita website and completing an online application form. Completion of the form should only take a few minutes and requires you to have a good idea of what it is you are hoping to get from/share with your mentor.
If you have any questions please email This email address is being protected from spambots. You need JavaScript enabled to view it..
Do I have to pay?
No. You receive this benefit as a member of Appita.
How long does the mentoring program run for?
We recommend a 9-month commitment to the mentoring relationship, and this could be extended as required depending on the availability of the mentor.
Apart from being paired with a mentor, what is included in the program?
There are a few documents that have been developed to assist and guide both mentors and mentees. See the webpage for these. Appita YPN has also run a webinar on "How to get the best out of mentoring?", which is available through our past webinars section. Appita and YPN will also strive to give opportunities for you to have a face-to-face chat with your mentor at the annual conference.
Future instalments of the Appita YPN Mentoring Program may include workshops and team-building exercises for both mentors and mentees.
Who will the mentors be?
All your mentors will be established senior professionals in the industry, who has shown passion and commitment towards the industry. Mentees are expected to select their own mentor that suits their needs from the Appita Mentor Directory. Whilst every effort is made to connect participants based on their preferences, it is not always possible to get everything from the one mentor. You may indicate your preference/s for your mentor. YPN will strive to link up with your preferred mentor. However, please note that we might not be able to do so, depending on the demand and availability of the mentor.
Once pairing is completed the parties will be emailed details of their mentoring partner at the commencement of the program. Mentees are asked to contact their mentor to kick start the relationship.
How often should mentors/mentees meet?
We recommend every month initially to establish areas where the mentoring relationship can be beneficial. Often, the suggestions made by a mentor might take some time to implement so a monthly meeting is good to get started quickly while enthusiasm is high, then perhaps back off to 2-3 monthly meetings.
What topics can I discuss with my mentor?
Appita Mentoring Program leaves the topics for discussion up to the parties. You may wish to discuss with you mentor any topic you feel you need guidance and support. For example, a mentor may try to help you focus on particular skills, look at your strengths, work on areas of weakness.
What happens if my mentoring partnership is not working out for me?
You should discuss this directly with your mentor. Many problems can be sorted out through a frank exchange of views, and it is unfair not to tell your mentor if you are having reservations. However if you are still dissatisfied, contact This email address is being protected from spambots. You need JavaScript enabled to view it.. These situations will be dealt with on a case by case basis and outcomes may vary depending on the specific situation.
Will my mentor discuss our sessions with my manager?
No. Your conversations with your mentor will remain between you two. We request both mentees and mentors to respect the confidentiality of the agreement.
How do I end a mentoring relationship?
Not all mentoring relationships are productive. If you wish to end your mentoring relationship, we suggest you communicate your intention clearly to your mentee. If you no longer wish to be involved in the program contact Appita on 9467 9722 or This email address is being protected from spambots. You need JavaScript enabled to view it. and your profile will be removed from the Mentoring Directory.
What about company secrets?
We strongly encourage you to refer to the contractual agreement between you and your employer; you are still bound by your individual contract. Please don't discuss any confidential or information with your mentor or anyone else.
FAQ'S MENTORS
I wish to be a mentor, how does the program work?
To become a mentor, please complete the following steps:
Complete and return the Mentor Application Form.
You will be contacted by the Appita and invited to attend a Mentor Information Webinar in September.
After attending the Mentor Information Webinar your profile will be included on the Mentor Directory for Appita members and potential mentees to access.
The Mentor Directory is reviewed and updated regularly.
You will be contacted annually at which time you may review your commitment.
To be a mentor how much experience do I have to have?
There is no hard rule, but in general, we recommend at least ten years' experience in the workforce to be a mentor. The reason to have such experience is that you will have gained valuable life, business and technical skills over this period. This means you can discuss situations that mentees find themselves in and help them work through such situations.
What is the role of a mentor?
As a mentor, you are expected to offer guidance and support to your mentee. Mentors should refer to the Appita Mentoring Program Resources page for tips and guidelines. Your role as a mentor is dependent on the individual needs of your mentee and what you agree together will be your role.
How do I know when the next Mentor Information Webinar is and how long will it go for?
A Mentor Information Webinar will be held in October. Upon receipt of an approved Mentor Application Form, you will be contacted by the Appita and booked into the information webinar. The session will run for approximately 45 minutes.
How much time is involved in being a mentor?
Mentors are expected to remain in the program for a minimum period of 9 months. However, the type of commitment varies according to what you have negotiated with the mentee. By committing to be a Mentor, you agree to establish one, or more, Mentoring relationships with a mentee(s).
We recommend every month initially (either via skype or in-person) to establish areas where the mentoring relationship can be beneficial. However, this varies with the needs of the mentee and the extent of the mentor's input. Initially, you could set up short meetings or conversations frequently to get off to kick start the relationship and later meet less or more frequently as required. Mentors, especially, should remember the importance of follow-up meetings.
Are mentees matched with a mentor?
No. Appita endeavours to find appropriate mentors in various areas of pulp, paper, packaging and bioproducts. Mentees are expected to select their preferred mentor that suits their needs from the Appita Mentor Directory.
How do I end a mentoring relationship?
Not all mentoring relationships are productive. If you wish to end your mentoring relationship, we suggest you communicate your intention clearly to your mentee. If you no longer wish to be involved in the program contact Appita on 9467 9722 or This email address is being protected from spambots. You need JavaScript enabled to view it. and your profile will be removed from the Mentoring Directory.
For mentees
Applications for the mentoring program are now closed. Please email This email address is being protected from spambots. You need JavaScript enabled to view it. to express your interest in participating in the 2022 Mentoring program.

Mentees online application form
For mentors
Please email This email address is being protected from spambots. You need JavaScript enabled to view it. to express your interest in participating in the program.