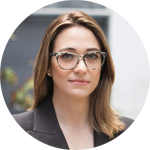 Belinda Driscoll, Managing Director, Kimberly-Clark Australia & New Zealand
Belinda Driscoll is the Managing Director for Kimberly-Clark Australia and New Zealand, responsible for leading the company's strategy and business operations in the region.
Belinda joined Kimberly-Clark as Senior Marketing Director in 2020. Under her leadership, the business has established a strong pipeline for future growth, and launched a number of K-CANZ's largest sustainability innovations in the last 12 months, including Australia's first Aussie-made 100% bamboo toilet paper, Kleenex Eco; 100% bamboo paper towel, Viva Eco, Huggies 100% biodegradable baby wipes; U by Kotex Thinx reusable period underwear, and the first reusable Huggies swimmer pants.
Prior to Kimberly-Clark, Belinda spent 17 years at Johnson & Johnson, serving in several international and local leadership roles in consumer, whilst in her previous role with J&J, she led the largest business unit within J&J Medical, as Sales and Marketing Lead for Sutures.
Belinda has extensive experience managing sophisticated global retailers, she is passionate about sustainability and she's a strong advocate for building culturally diverse and inclusive workplace cultures.
Belinda has a Bachelor of Business from RMIT, Melbourne.